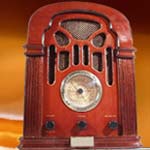 "In the early days of the western United States, a masked man and an Indian rode the plains, searching for truth and justice. Return with us now to those thrilling days of yesteryear, when from out of the past come the thundering hoofbeats of the great horse Silver! The Lone Ranger rides again!"
Upon hearing those inspiring lines children and adults alike often delightedly recited the famous next lines in unison, "Come on, Silver! Let's go, big fellow! Hi-yo Silver! Away!", and for the next 30 minutes, the glory days of the Old West came alive.. The show spawned beloved catch-phrases, such as "Who was that masked man, anyway?" and Tonto's, "Kemo Sabe" and "Git-um up, Scout!" in American pop culture that remain to this day. During its heyday, The Lone Ranger's outfits were popular Halloween costumes, and the show spurred a successful mass merchandising industry (called "premiums" at the time).
The Lone Ranger began in 1933 in Detroit, Michigan and then spread across the entire country until its final airing in 1956. Contrary to popular misconceptions, The Lone Ranger is not named so because he rode alone. Rather, he was the last survivor of a band of Texas Rangers, and was most often with his faithful Indian companion, Tonto. There has been some debate about whether The Lone Ranger was based on a real person or from the imagination of its writers.

There are 1533 shows in our collection!
Date Aired
Haunted Ranch
June 20, 1933
A Frame for Murder
February 2, 1933
The Cattle Drive Becomes A Race
January 19, 1934
Fire in the Sky
October 27, 1934
Ambush at Medicine Rock
January 27, 1935
The Bribe
September 19, 1935
Lone Ranger Finds Silver
April 10, 1936
The Forest Fire - pt 3
June 18, 1937
Crooked Banker And Sheriff
May 10, 1937
Campaign of Unrest
November 18, 1938
Trouble At the Cooley Ranch
November 7, 1938
Vigilantes
November 11, 1938
Don Diegos Animals
November 16, 1938
Lone Ranger Discovers Tonto-Anniversary Special
December 7, 1938
The Easterners
November 21, 1938
Indian Uprising At El Dorado
November 4, 1938
Rain Making Gun
December 14, 1938
Trial At El Dorado
October 31, 1938
The Origin of Silver-Anniversary Special
December 9, 1938
Missing Pardon
December 12, 1938
Arizona Pete Jumps a Claim-Reprise of first show
December 5, 1938
Nester Accused
October 28, 1938
Sheriff Vic
November 9, 1938
Kid Deputy
November 14, 1938
Almost A Man
November 28, 1938
AND MANY MORE



Other Vintage Radio You'll Like:
Try these other Old Time Radio Shows out for size!